i am honoured to introduce today's
feature friday flogger.
drea
has a
kick ace
baby girl marlowe, her
etsy
shop is adorbs
(i want it all)
, & she's an awesome single mom; just like me! i love following her through her ups and downs through single parenthood and again, honoured, to feature her. i kind of blog stalk her. sad to admit, but i find myself a lot within her and parallel the same life triumphs. maybe i don't stalk her, but i do follow her very closely because i feel a weird bloggy connection, i find inner strength knowing i'm not alone. she's an awesome girl & whilst living a pretty bitchin' lifestyle (in my eyes) she is an inspiration to all single mommas out there including me whom strive to be the best mom they can be and depend on nobody but themselves. it's bloggers like drea who allow the rest of us newbie bloggers to be ourselves, say what we feel, and empower us to wear a little of our feelings on our sleeve. thanks drea!
so before i go all crazed bloggy fan on you, meet drea!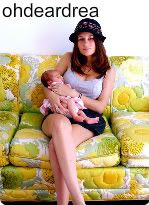 Hello! I'm Drea from
ohdeardrea
:) I'm a sarcastic, vague, and vegan, single mama. It's just me and my 7 month old, Marlowe in our little home in south Florida. We also have Jerry, the ridiculous tennis ball addicted dog, but lately he's been staying on and off between me and my boyfriends house (it's a long story, okay it's not, his hair is just driving me nuts and he gets to play with another dog elsewhere. End of story).
I started my blog when I became pregnant. I really wanted to be able to document every important moment of my daughters life and my life as a mom. I had a livejournal for about 7 years and it just seemed right to delete it and start a new clean mama blog for my new life. Also, since I've lived in just about every corner of the United States, it's been such a great tool to keep far away family and friends up to date on the babycakes.
I like my blog for a variety reasons: 1. I've been plagued by baby/mama brain. My memory has turned non existent and it's nice to keep track of the memorable moments this way. 2. Blogging is a great creative outlet. 3. This may sound silly but... I feel like I'm doing some good and helping give inspiration. A lot of blogs so the perfect life with perfect families and pictures, but I've got a much different picture displayed. I don't have my loving husband/marlowe's father here to help out. All I've got is my mama strength and my baby to show... and of course my incredible support system of family and friends. I've received so many emails of thanks you's and questions from scared woman searching for a bit of hope. It's nice to know people find a bit of strength in my story. It lets me know I'm doing something right.
My favorite part about being a mom? I think it's just knowing at the end of the day it's just the pleasure of knowing I'm doing the hardest job imaginable to the best of my ability. I've got a clean sleeping baby, full of food, built up on kisses, and surrounded by love... it makes me happy. Also, just watching her grow and smile? AWESOME.
Spare time? HA. Let's pretend I had spare time... I would: Go out with friends, and maybe some dancing or something. Who knows. Also, crazy (or lame) as it seems I would love to just clean my house and cook delicious food... then sit on my couch with a glass of wine and do a little sewing.